Basic Fitting - ID MATCH™
Sale price

RM 350.00

Regular price

RM 0.00
Share
Proper saddle fitting is important for both bike and rider. The saddle is our only connection to the bike when we are riding. Anatomically, that area is where we will sit for hours. A good saddle fit will determine how long you can say sitted on the bike!
What we provide,
Finding the appropriate saddle size
Testing saddle comfort during riding
Testing the saddle geometry
Adjusting the saddle fore / aft position
Finding the optimum saddle height, body measurement body
Helpful before purchasing a new bike/frame
Mobile phone report
Saddle Fitting
Because of its special function, the saddle plays an important role in both the comfort of the athlete and in maximising performance. Scientific studies have shown a clear loss of performance when there is perceived discomfort in the seat. idmatch Saddle Fitting is a complete kit of tools and test saddles useful to find the ideal saddle and completely avoid any discomfort due to the seat.
Test Saddles
idmatch Test Saddles is a kit of saddles developed to allow users to test the recommended solution on the road. All available models are replicas of the best saddles on the market, guaranteeing a perfectly identical feel to the original.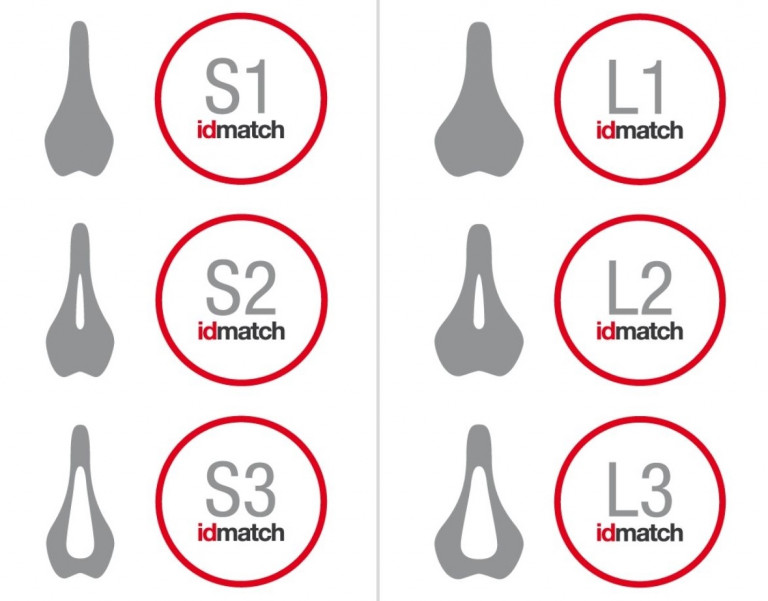 idmatch sizes
idmatch offers 6 different sizes to choose from, divided into two groups according to the distance between the ischial bones.

ID Match Identity Matching System
A scientific approach for wellness and performance
Technology, science and continuous innovation
Allow ID Match to maintain a high level of customization, precision and reliability.